Picture this: stunning clear-blue waters and nature surrounding you while you're with your significant other, friends or your family on a horseback ride by the beach. The weather is warm and the sunset is painting the sky with yellow and orange and red tones. Doesn't it sound like a relaxing time in paradise?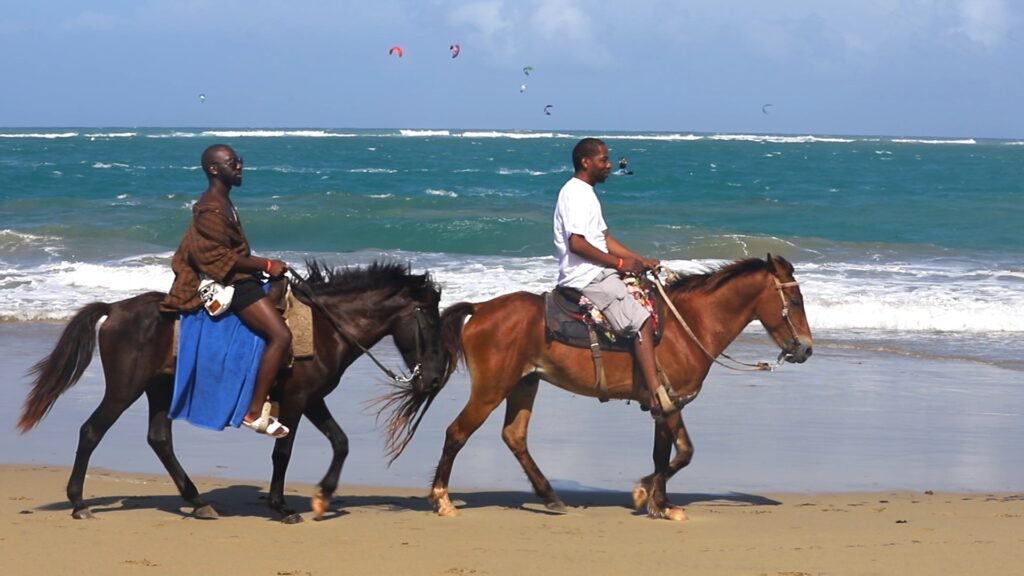 Besides the many wonderful water adventures that await you in Cabarete, Puerto Plata, horseback riding by the sea is one of the preferred activities for those who just love experiencing what nature has to offer.
Venture into a realm of deep connection with nature. As the waves caress the coastline and the tropical breeze kisses your skin, horseback riding becomes an experience that awakens all your senses. From the tranquility of trails meandering through lush landscapes to the excitement of traversing pristine beaches and hidden corners, horseback riding in Cabarete allows you to embrace the very essence of this paradise. Whether you're an experienced rider or someone saddling up for the first time, the partnership between the noble steed and the Caribbean terrain grants you a unique perspective, weaving an intimate connection with the environment and its history.
A Unique Countryside Experience
Whether you're a tourist, or a local resident, horseback riding could be the perfect relaxing and picturesque countryside experience, Several local stables and equestrian centers can be found around the limits of Cabarete, offering unique custom design experiences for visitors and residents alike, where beginners can choose to go on leisurely beach rides, guided by experienced instructors for safety or basic horse riding within their premises. For more experienced riders, the designed adventures can take them on longer journeys, exploring the diversity of terrains of Cabarete, including mountain trails, hidden waterfalls, and river valleys.
Horse riding in Cabarete can be more than just a thrilling activity, it can also be the perfect opportunity to connect with the local culture, discover its historic landmarks, and experience the natural beauty of the town in a serene and immersive way.
A Lot More To Be Discovered
For those seeking a break from daily life endeavors, Cabarete has a lot more adventures to immerse yourself in. Beyond the town's reputation for water sports, there's so much more lived and experienced in Cabarete for those who love to explore the diversity and beauty of this Caribbean town, welcoming adventures from all tastes, for hikers and foodies, for Yoga lovers and wellness seekers, here are some of the adventures to embrace when in Cabarete:
Yoga and Wellness Retreats: For a more tranquil adventure, Cabarete offers numerous yoga and wellness retreats. Relax, rejuvenate, and find your inner peace amidst the serene backdrop of the Caribbean Sea.
Caves and Cenotes: Delve into the hidden underground wonders of Cabarete by visiting its fascinating caves and cenotes. These natural formations provide a glimpse into the geological history of the country and offer a unique caving experience.
Cabarete's zip-line tours: Soar through the treetops and experience the thrill of zip-lining over dense tropical forests. Cabarete's zip-line tours provide an exhilarating bird's-eye view of the lush landscapes below.
Hiking and Nature Walk: Put on your hiking shoes and set off on an exploration of Cabarete's stunning natural wonders. Trek through nature reserves, encounter diverse flora and fauna and breathe in the fresh air of the Caribbean wilderness.
All-Terrain Vehicle (ATV): Experience an adventure over wheels into Cabarete's Countryside. Explore off-the-beaten-path trails, visit local villages, and witness the authentic charm of rural life.
Nightlife and Local Culture: After a day of thrilling adventures, unwind in Cabarete's vibrant nightlife scene. Enjoy local music festivals, dance, and cuisine while immersing yourself in the lively Dominican culture.
Enjoy the Perfect Escapade
Find the perfect adventure, trip, or excursion in Cabarete by consulting our experts via email at [email protected]