Educate, Empower, Employ.
Committed to creating a brighter future for girls and women in the Dominican Republic.
In the Dominican Republic, girls and women historically faced education barriers, especially in rural areas. Poverty, cultural norms prioritizing domestic duties, and discrimination limit their opportunities and well-being. This results in limited access to education and employment, lower wages, and fewer leadership positions. Early marriage and pregnancy cause many girls to drop out of school.
Initiatives are being implemented to tackle the issues of gender inequality against women and girls, and enhance education and professional development opportunities for them. Nevertheless, there is still much more work to be done to create a thriving environment for girls in the Dominican Republic to reach their full potential.
---
It is the seemingly insignificant actions that can collectively shape destinies.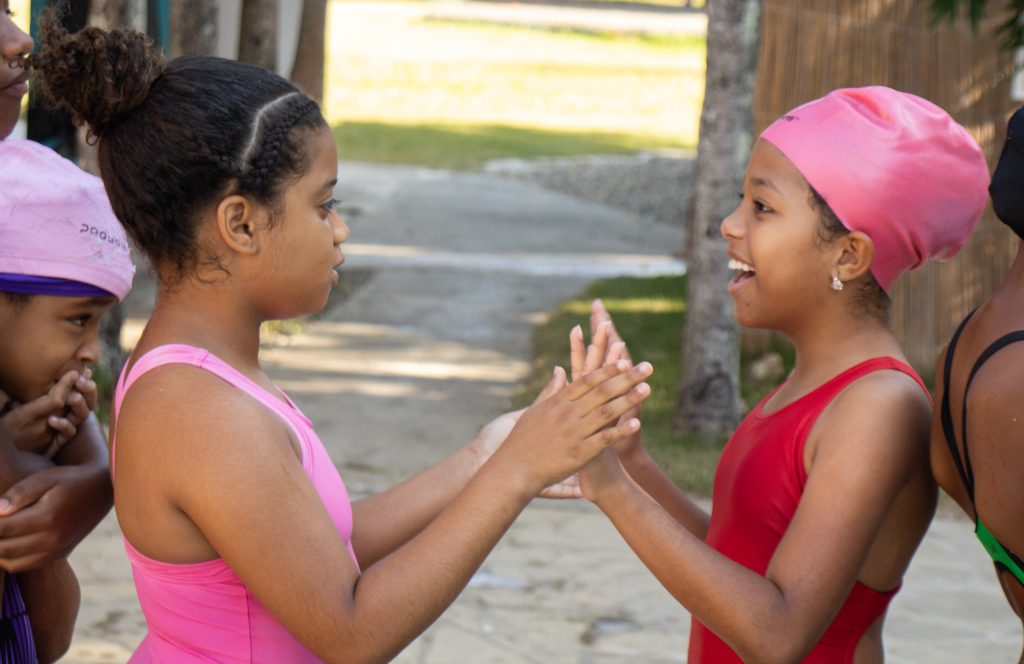 ---
WHAT IS MARIPOSA DOING FOR THE GIRLS?
The Mariposa DR Foundation is a non-profit organization based in Cabarete, Dominican Republic. Its mission is to empower girls and young women to create sustainable solutions to end generational poverty. The foundation provides education, health services, and life skills for girls in the local community, as well as support to their families.
Founded in 2009, the Mariposa DR Foundation serves around 150 girls each year. Offering a range of programs including after-school and summer camps, leadership development, health education, and vocational training. The foundation also provides access to health services such as dental care and sexual and reproductive health education.
One of the key initiatives of the foundation is the "Girl Effect" program. It aims to empower girls to become leaders and advocates for change in their communities. The program provides training in leadership, advocacy, and entrepreneurship, and encourages girls to become agents of change in their schools and communities.
Also, The Mariposa DR Foundation is committed to creating a brighter future for girls and young women in the Dominican Republic. By promoting gender equality, education, and health. Through its programs, the foundation helps girls develop the skills and confidence they need to achieve their full potential and make a positive impact on their communities.
HOW IS MARIPOSA HELPING THE GIRLS?
The Mariposa DR Foundation has a range of programs and initiatives that are designed to address the challenges facing girls and women in the community and to promote their well-being and development.
Some of the ways that the Mariposa DR Foundation is helping the community include:
1. Education: provides an education program for girls and young women, featuring after-school academic support, tutoring, mentorship, and leadership development.
2. Health and Wellness: provides health and wellness programs for girls, promoting physical and emotional well-being. The programs include sports, yoga, and nutrition education.
3. Community Outreach: collaborates with families, schools, and organizations to support girls and young women's well-being in the community providing resources like parenting classes and job training for families.
4. Advocacy: advocates for girls and women's rights in the Dominican Republic by raising awareness and promoting policies and programs to support their well-being.
Overall, the Mariposa DR Foundation is making a significant impact on the community by empowering girls and young women and promoting their well-being and development. Through its programs and initiatives, the organization is helping to create a more equitable and just society for all.
Watch Our Visit to Mariposa DR Foundation
WHAT ELSE?
Our mission is to provide coffee & food that is good to taste, good for the earth & good for the people who grow it.

– Patricia Suriel
Cabarete Coffee, founded in 2009 by Mariposa's Executive Director Patricia Suriel, is a sustainable and ethical coffee roasting company in Cabarete, Dominican Republic. In 2017, the company was gifted to The Mariposa DR Foundation. Cabarete Coffee sources its coffee beans from small-scale farmers in the Dominican Republic, primarily in Jarabacoa, and promotes fair prices and environmentally-friendly farming practices.
Cabarete Coffee roasts small batches of coffee beans at their Cabarete roastery, offering a range of blends and single-origin coffees in different roasts. Customers can also subscribe to receive fresh coffee deliveries. The company is committed to sustainability, ethical sourcing, and community involvement, sponsoring local initiatives such as beach cleanups and environmental education programs. Cabarete Coffee is a small but impactful company making a positive difference in the Dominican Republic's coffee industry.
Read more about it at https://mariposadrfoundation.org/
---
Read Us More