7-Day Trip Dominican Republic: The North Coast. Enjoy this one-week itinerary of the north coast of the island.
7-Day Trip Dominican Republic: The North Coast. Here's a complete route suggestion if you are visiting or living on the Republic's North Coast.
The North Coast of the island is famous for the joy of life it brings and its simplicity. Waking up to unparalleled tropical sceneries and the entrancing sounds of nature that surround you everywhere you go has no comparison.
Visit the best parts of DR!
From its gorgeous beaches, peaceful atmosphere, delicious cuisine, and impeccable architecture. We hope this guide helps you plan a fun and adventurous road trip. No matter if you're into surfing, paddle-boarding, exploring, or just relaxing by the shore, the North Coast of the Dominican Republic has a home for every taste. Have a blast in paradise!

In this quick route to the North Coast of the Dominican Republic, we will plan a route of things to see. Buckle your seatbelts and get ready for a fun road trip!
For a more settled beach holiday, enriched by some strong emotion and a little history and culture, go to the north. Landed at the Aeropuerto Internacional Gregorio Luperón, choose a place where to enjoy your stay, from stunning villas to all-included high-end resorts.

Spend an afternoon visiting Puerto Plata walking through the streets of the city center among restored Victorian houses, exploring the museums, and enjoying a drink in a local restaurant on the Malecón.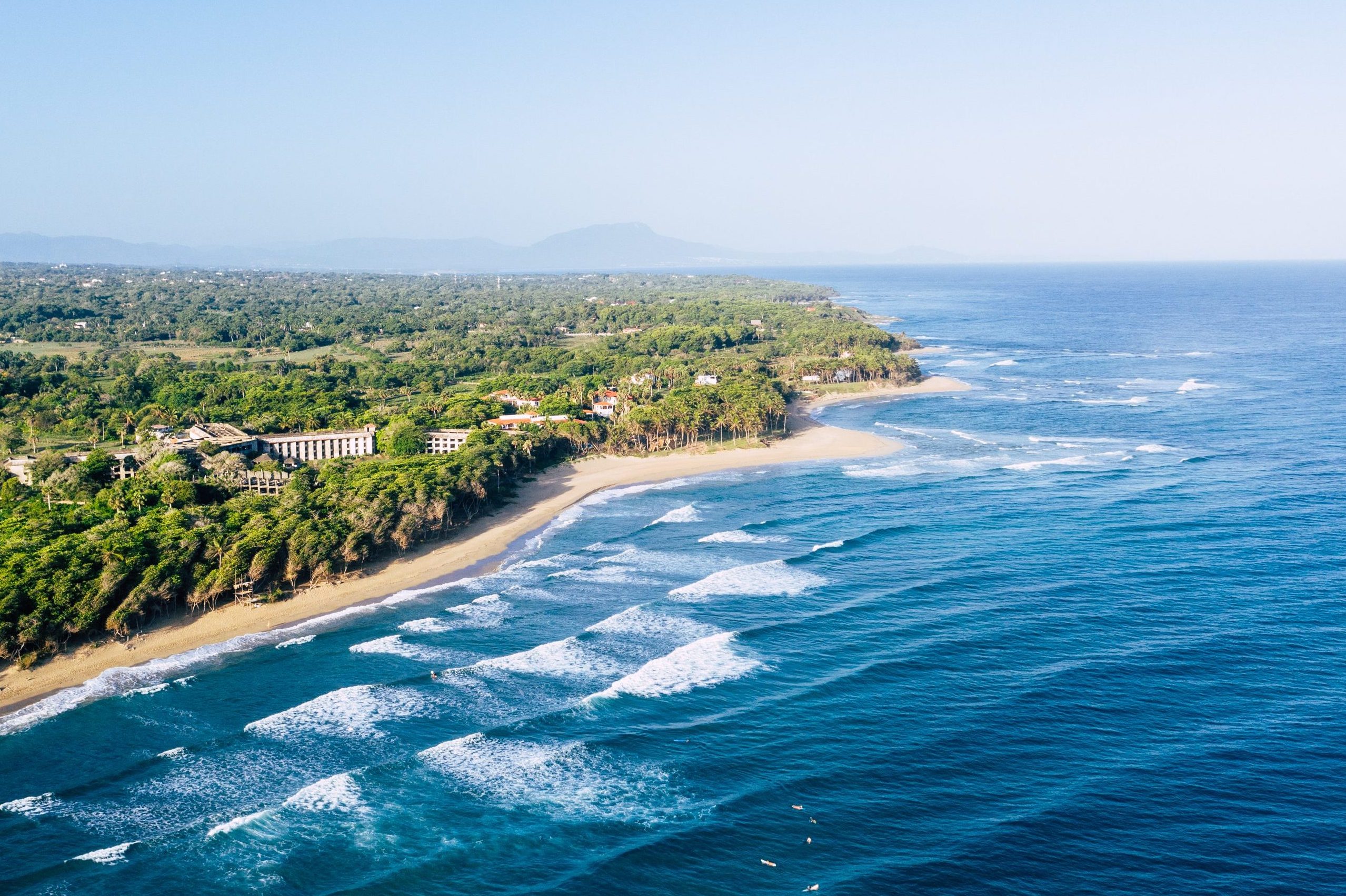 DAY 1 (stay 2 days)
Start with a couple of days in Puerto Plata, exploring the Port area and the colorful streets of downtown, some of the most famous cigar shops, and Playa Dorada. If you are looking for more adventurous tours, visit the 27 Charcos of Damajagua, enjoy the view on the Teleférico, and if you have kids, stop by Ocean World, the largest water park in the area.

If you wish to explore a hidden gem around the area, make sure you plan a 1-day trip to Punta Rucia and admire Paradise Island, located a couple of hours west of Puerto Plata.
One of the most beautiful and paradisiacal places on the North Coast of the Dominican Republic.
DAY 3-5 (stay 2 to 3 days)
Are you and your family an active crew? Then head to Cabarete, east of Puerto Plata, a water sports paradise with great bars and restaurants. Take a few hours or a few days to learn the secrets of kite-surfing, wing foiling windsurfing, or surfing in the largest water sports community of the Caribbean.
Discover beautiful beaches, suitable for nature lovers, and enjoy a tasty cocktail while relaxing on the beach.
If you like water sports and vibrant nightlife, look for them in the many beachfront schools, bars, and restaurants, all located downtown.


If you enjoy road trips with family and friends, plan a day trip further east, near the quiet town of Río San Juan, where you'll explore some magnificent beaches, snorkeling and diving locations, and some gorgeous blue lagoons and caves.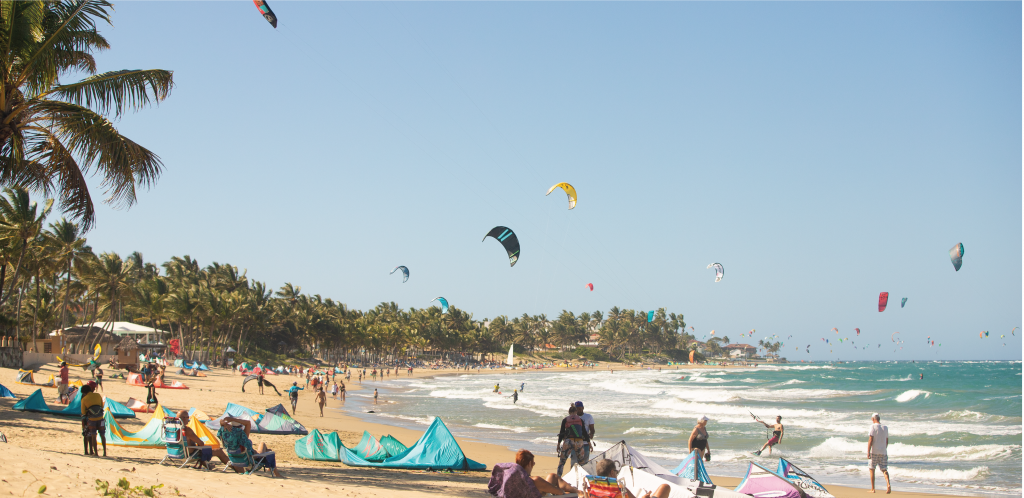 DAY 5-7 (stay 2 days)
The areas of Rio San Juan and Cabrera are known as the Costa Verde for its beautiful beaches and coastal landscapes. In fact, the whole coast of Rio San Juan is a succession of coves with turquoise waters.

Playa Grande is a stunning and wild beach with high-end resort options. Here you'll have the chance to book entertaining excursions and scuba diving tours.
Around the town of Rio San Juan there is Gri-Gri lagoon with sea caves. The lagoon can be visited by boat, through a labyrinth of mangroves, until you reach the beautiful beaches of Playita, the Cave of Swallows, El Caleton and Puerto Escondido.
In Rio San Juan are two golf courses: the charming Playa Grande Golf Course in Cabrera, with 18 holes designed by Robert Trent Jones, and the Rio San Juan Golf Club with only 9 holes.

Keep going East to reach Cabrera, with spectacular beaches and located on the north-east coast of the Dominican Republic, east of Puerto Plata and west of Samana. Cabrera offers beautiful landscapes and accommodations, waterfalls, caves, blue lagoons and much more at a short distance.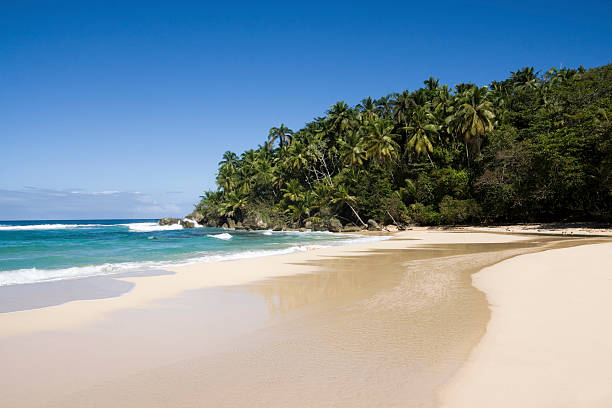 Other beautiful beaches around the area: Playa Caleton, Playa Diamante, Bahia Escocesa, all the way to Punta Preciosa and then Cabo Frances Viejo on the Atlantic coast.